The Lost Dogs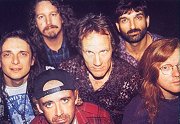 Years
1992 -
From
Styles
Members
Former Members
Search
Subcategories:
Releases:
Albums

Scenic Routes
1992
Little Red Riding Hood
1993
Green Room Serenade Vol. 1
1996
Gift Horse
1999
The Best Of The Lost Dogs
1999
Real Men Cry
2001
Green Room Serenade Part Tour
2002
Nazarene Crying Towel
2003

Singles

Pray Where You Are
1994
Appearances:
Compilation Albums

Surfonic Water Revival
Happy Christmas Vol. 2
1999
Live From The Acoustic Stage
2001
Making God Smile: A Tribute To The Songs Of Beach Boy Brian Wilson
2002
Related Categories:
External Resources:
Other Sites
Direct links to the same topic on other websites.
This category needs an editor