Thaddeus, Terry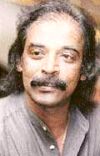 Years
1947 - 2003
From
Styles
Search
Subcategories:
Local rock guitar legend dies at 55
PETALING JAYA: Malaysian rock guitar legend Terry Thaddeus passed away early yesterday at the Subang Jaya Medical Centre from cancer. He was 55.
"We can't replace him. He is simply irreplaceable," said his wife Frances in a telephone interview.
Thaddeus was also survived by his daughter Melanie, 27, and son Mark, 23.
A seasoned session musician who was described by Marshall World magazine as "the Jimi Hendrix of the East," Thaddeus first sprang to prominence on the local scene as a gifted guitar virtuoso back in the 1970s, working with a number of bands from Kuala Lumpur, Bangkok, Hong Kong and Japan.
...
Other highlights on his resume include producing Search's Rampage album in 1992 and composing the jingle for TV3's coverage of the Barcelona Olympics in the same year.
More at 202.186.86.35/news/story.asp?file=/2003/5/13/nation/zaterry&newspage=Search
Contributed by:
ZACK YUSOF
Contributor organisation:
The Star, Malaysia
Terry Thaddeus laid to rest
PETALING JAYA: Relatives and friends bade Malaysian guitar legend Terry Thaddeus farewell yesterday at a moving funeral service held at the St Ignatius Church here.
Thaddeus, 55, who had cancer, was already a name to be reckoned with back in the 1970s when he was a member of the famous Strollers together with singer Helen Veloo, bassist Nand Kumar, drummer Charles Felix and keyboardist Wah Idris.
...
Towards the end of the service, Come Union in Christ - a song Thaddeus composed and sang in 1990 for a special gathering of Roman Catholics in the country - was played.
More and news photo at thestar.com.my/news/story.asp?file=/2003/5/15/nation/rifuneral&sec=nation
Contributed by:
WANI MUTHIAH
Contributor organisation:
The Star, Malaysia
This category needs an editor