Cochran, Stewart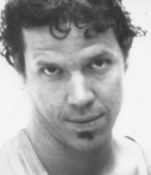 Years
October 13, 1964 -
From
Styles
Search
North Carolina born pianist/keyboardist, blending gorgeous, floating organs, with a myriad of arpeggios.
Subcategories:
Biography: Stewart Cochran Biography
Stewart Cochran came into this world October 13, 1964 in Greensboro, North Carolina. He joined his older sister, actress Shannon Cochran, in developing a performer's personality, appearing in hometown theater productions and studying music. He's an alumni of University of Texas where he studied music and performed in the jazz orchestra.
Cochran first studied piano and accordian. As he grew he added electric keyboards and organs, and synthesizers. He went through a Jan Hammer-like period where he played a bank of synthesizers and electric keyboards but his musical growth took him back to older organs such as the Hammond and Rhodes which he plays in 54 Seconds. He also plays guitar and sings.
Cochran has played with a variety of bands, performing many musical styles, including alternative, country, rockabilly and pop. He curently plays in 54 Seconds, Plum, Troy Dillinger and Del Dragons, Honky Donkey and Wyckham Porteus. He has performed and recorded with Jimmy LaFave and Night Tribe, and David Garza (Daveed). Cochran appears on a multitude of other artists' CDs including Abra Moore, Great Divide, Kacy Crowley, J.P. Allen, Red Dirt Rangers, Friends of Dean Martinez, Michelle Solberg, Roxanne Hale and Shane Cannady. He's appeared on the well-known U.S. television show, "Austin City Limits," twice, with Charlie Robison and Jimmy LaFave. Cochran also appears in music video for Roxanne Hale's "Wallace" and Michelle Solberg's "Skin."
Personally, he married singer/songwriter Gemma Cochran in 1990s but the two amicably divorced. Both performed with Jimmy LaFave in the 1990s and appear together on LaFave's "Trail" CD.
Cochran keeps his 6'2", 185 lb. frame in shape with running, weight-lifting, and water-skiing. His hobbies include yoga, and blowing smoke rings. Like band mate Spencer Gibb, Cochran owns his own recording studio.
Contributor e-mail:
caroilin@caroilin.co.uk
Contributor organisation:
54SecondsFan.com
Releases:
Albums

Jimmy LaFave - Buffalo Return to the Plains
1995
Wyckham Porteous Looking for Ground
1995
Abra Moore - Strangest Places
1997
Jimmy LaFave - Road Novel
1997
Kacy Crowley - Anchorless
1997
J.P. Allen - Slow Burn
1998
The Great Divide - Break in the Storm
1998
Friends of Dean Martinez - Atardecer
1999
Jimmy LaFave - Trail
1999
Plum - Trespassing
1999
Red Dirt Rangers - Ranger Command
1999
Ginger Mackenzie - All Too Human
2000
Plum - Piggyback
2000
Jez Spencer - 4 track Mind
2001
Patrrice Pike - Flat 13
2001
Plum - Blue Boy
2001
Roger Wallace - That Kind of Lonely
2001
Troy Dillinger - Troy Dillinger and a Guitar
2001
Wallace That Kind of Lonely
2001
Mike Rosenthal - Movin' In
2002
Parade - Life* in Ten Songs or Less
2002

Videos

54 Seconds: "better?"
2004
Troy Dillinger: <i>Dirty & Hairy</i>
2004
Appearances:
Related Categories:
External Resources:
Other Sites
Direct links to the same topic on other websites.
This category needs an editor