Search
Subcategories:
Jez Spencer: 4-Track Mind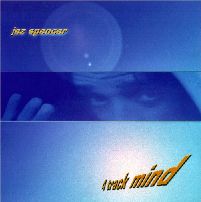 Limited edition. Re-mastered by Jim Wilson for Yes Mastering, May 2001. Personally signed and numbered, with liner notes written by Spencer. A signed Jez Spencer 8x10 glossy black and white promotional photo is included in the 2001 release. Some songs feature only Spencer on all instruments.

Originally recorded on Spencer's 4-track machine, at his home in Austin, Texas. Johnson and Cochran went on to form 54 Seconds with Gibb after this recording. The CD was originally released only to record companies, but in 2001 a limited re-release became available to fans.
| | |
| --- | --- |
| Released: | 1997, 2001 |
| Formats: | CD |
| Genre: | Rock/Pop/Alternative |
| Studio/Live?: | Studio |
| Producers: | Spencer Gibb |
| Guest Musicians: | Stewart Cochran (rhodes, organ, clavinet), JJ Johnson (drums percussion, vocals), Einar Pedersen (bass, drums), Johnny Goudie (vocals, drums, percussion, bass), George Reiff (bass), and Matthew Vaugan (violin). |
| | |
| --- | --- |
| 1 | In A Box |
| 2 | Twice In One Day |
| 3 | If I Was Still Your Man |
| 4 | Lately Nothing |
| 5 | Whatever Happened To The Flowers |
| 6 | World Stood Still |
| 7 | Pray |
| 8 | Sunday Morning |
| 9 | I Still Get High |
This category needs an editor