99 Names of God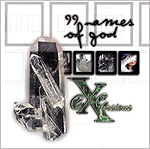 Years
1996 -
From
Styles
Members
Jason Spradlin
percussionist, drummer
Kris Swenson
Keyboardist, vocalist, bassist
Mark Cook
guitarist, programmer
Former Members
Search
Displays of complicated, multi-layered compositions, with a beautifully dark edge.
Subcategories:
Releases:
Albums

Excursions
2000
Interwoven
2003
Appearances:
Compilation Albums

Tappistry, Vol. I
1995
Tappistry, Vol. II
1999
Confessions of Young Moderns II
2000
State of the Union 2.001
2001
Related Categories:
External Resources:
Other Sites
Direct links to the same topic on other websites.
This category needs an editor