Air Supply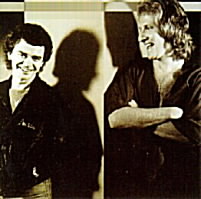 Years
1976 -
From
Styles
Members
Graham Russell

Russell Hitchcock

Search
Australian soft rock balladeers, originally from Melbourne. Influences include: Barry Manilow, Bread, The Bee Gees, and Beatles.
Subcategories:
Releases:
Albums

Love and Other Bruises
1977
Lost in Love
1980
The One That You Love
1981
Now and Forever
1982
Making Love ... The Best of Air Supply
1983
Air Supply
1985
Hearts in Motion
1986
The Christmas Album
1987
The Earth Is
1991
Now and Forever/One That You Love
1993
The Vanishing Race
1993
Life Support
1994
Greatest Hits
1995
News from Nowhere
1995
Greatest Hits Live: Now and Forever
1996
Book of Love
1997
Christmas Album
1999
The Definitive Collection
1999
Ultimate Collection
2000
Air Supply Story, Volume 1
2001
Sweet Dreams: The Encore Collection
2001
Yours Truly
2001

Singles

Lost in Love
1993
Making Love out of Nothing at All
1993
Only That You Love
1993
Appearances:
Compilation Albums

Billboard Top Hits: 1981
1981
Billboard Top Hits: 1983
1983
Love Songs, Volume 1 and 2
1999

Soundtrack Albums

Ghostbusters
1984
Related Categories:
External Resources:
Other Sites
Direct links to the same topic on other websites.
This category needs an editor