Vanessa Amorosi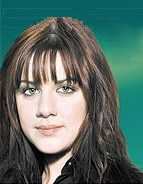 From
Styles
Search
Vanessa Amorosi is an Australian pop singer. She entered the international stage when she performed her song Heroes Live Forever at the opening ceremony for the 2000 Olympics in Sydney.
Subcategories:
Releases:
Albums

The Power
2000
Every Time I Close My Eyes
2002
Turn to Me
2002

Singles

Have a Look
Absolutely Everybody
2000
Shines
2001
The Power
2002
Related Categories:
External Resources:
Other Sites
Direct links to the same topic on other websites.
This category needs an editor