Bill Anderson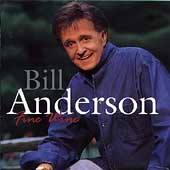 Years
1937 -
From
Styles
Search
Subcategories:
"Whisperin" Bill Anderson & Rustie Blue
Rustie & "Whisperin" Bill Anderson team up together with the duet "Chip Chip" Good Good things are worth waiting for! Rustie has just come out of the studio with the Legendary Bill Anderson where they recorded their first duet together entitled "Chip Chip" an original song written by Bill and never before released! Single to be released sometime in the early part of 2004 and will also be included on Rustie's next album and possibly on Bill's next CD in Jan. 2004. Rustie states "Bill has been a huge inspiration to me in my career and has given me wonderful support" and I can't thank him enough for that." Rustie first opened shows for Whisperin Bill Anderson in 2001 and then went on to record "On and On and On" ( a song written by Bill Anderson) which hit the E.M.S. European Chart in May and at the same time was sitting at the top of the "Hot Country Singles Chart" at #1. Also Rustie recorded "I'm Not Going Til I'm Gone," a beautiful ballad and fantastic song written by Bill and has now charted on the Mildura Hot FM top 100 Country Hits Chart at #49.. Watch for the national release of "Chip Chip" in the coming months!! View photo's of Rustie & Bill in studio at Rustie's website http://www.rustieblue.com Thank you for your continued support! Robert Keister, Managment, CSP Center Stage Productions 512 West Sixth Ave. Lancaster, Ohio 43130 (740) 653-1916 RUSTIE'S EMAIL: rustie@rustieblue.com PROUD MEMBER OF THE "COUNTRY LEGENDS ASSOCIATION" http://www.clalonestar.com
Contributed by:
Robert Keister, CSP
Contributor e-mail:
rdkeister@rustieblue.com
Contributor organisation:
Center Stage Productions
Releases:
Albums

Bill Anderson Sings Country Heart Songs
1962
Still
1963
Bill Anderson Showcase
1964
Bill Anderson Sings
1964
Bright Lights & Country Music
1965
Bright Lights and Country Music
1965
From This Pen
1965
I Love You Drops
1966
For Loving You
1967
Get While the Gettin's Good
1967
I Can Do Nothing Alone
1967
Happy State of Mind
1968
Wild Weekend
1969
Country Music Heaven
1993
Out in the Country
1994
Fine Wine
1998
A Lot of Things Different
2001
No Place Like Christmas
2002
Whisperin Bluegrass
2007
Related Categories:
External Resources:
Other Sites
Direct links to the same topic on other websites.
This category needs an editor