Angham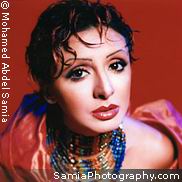 From
Styles
Search
Subcategories:
Biography: Angham
An Egyptian singer that started her professional singing career at the early age of sixteen, thanks to the encouragement of her father, a well-known music composer Mohamed Ali Soliman, and her late singer uncle Emad Abd Al-Halim.
Back in the 80s, she achieved significant career successes after the release of her first single "Fel Rokn El Be3eed El Hady" (At the far calm corner)
In the mid 90s she started a new stage in her music career through cooperating and experimenting with different composers after separating with her father. Which resulted in diversification of her music styles and unique melodies which transformed her from a newcomer artist in the 80s into a 90s Diva among other Middle Eastern female artists.
Because of her fast spreading fame across the Arabic world, she was encouraged to release full exclusive albums in the Gulf dialects.
Contributed by:
Mo Elnadi
Contributor e-mail:
mnadi@usa.net
Releases:
Albums

Ba'Ollak Eih
Bahibbak We BahlamElla Ana
Bethib Meen
Fil Rokn Al Ba'eed El Haddee
Laiyek
Wahdaniyyeh
Ya Tayyeb
Leih Sebtaha
2001
Omry Maak
2003

Videos

Batli Nazrah
Omry Maak
Sidi Wisalak
Related Categories:
This category needs an editor