Armageddon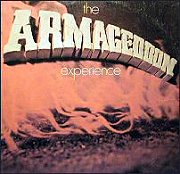 Also Known As
From
Styles
Members
Dennis Dordigan
vocals
Gary Lesneiwski
bass
John Thompson
lead guitar
Jon Gilbert
drums
Kathy McEver
soprano soloist
Larry Ashley
piano
Laurie Steen
vocals
Pam Jovic
vocals
Search
Armageddon was one of several Campus Crusade For Christ musical ministry groups that flourished in the early 70's (others included New Folk, Great Commission Co, and The Forerunners).
Although all predominantly folkrock bands, their studio albums attempted to achieve a "now" sound to reach the youth, but often were too afraid to rock out, instead pampering their songs with horns, etc, resulting in an 'Up With People' or 'Up Up And Away' choral sound.
The Armageddon Experience album was produced by a young
Michael Omartian
who wrote and arranged several of the songs.
Subcategories:
Releases:
Appearances:
External Resources:
Newsgroups
Other Sites
Direct links to the same topic on other websites.
This category needs an editor