Count Basie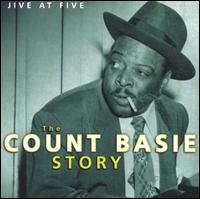 Born
William Basie
Also Known As
The Count Basie Orchestra
The Kansas City Seven
Years
1904 - 1984
From
Styles
Search
Pianist whose blues-based, hard-swinging big band emerged from Kansas City in the 1930s to achieve worldwide recognition as one of the most important jazz bands of all time.
Subcategories:
Releases:
Albums

At the Chatterbox: 1937
Basie Big Band
Basie Jazz
Basie [Clef]
Basie's Basement
Big Bands
Blues Backstage
Blues by Basie
Count Basie Big Band
Count Basie Dance Session, Vol. 1
Count Basie Swings, Joe Williams Sings
Count Basie and His Great Vocalists
Count Basie and His Orchestra Collates
Count Basie at the Piano
Count Basie in Kansas City
Count Basie, 1937
Count Basie, Vol. 1 1932-1938
Count Basie, Vols. 1-3
Count Basie/Lester Young - Live at Birdland
Count Basie: The Orchestra and the Octet
Dance Parade
Dance Session
Do You Wanna Jump ...?Class of '54
Good Morning Blues
Harvard Blues
Jazz Royalty
Jive at Five
King of Swing
Lang-Worth Transcriptions
Listen...You Shall Hear [Hep]
Making Whoopee
On the Upbeat
Paradise Squat
Rock-A-Bye Basie, Vol. 2
Sixteen Men Swinging
Super Chief
Swinging the Fifties
The Best of Count Basie [Decca/MCA]
The Complete Atomic Basie
The Complete Decca Recordings 1937-1939
The Count Basie Sextet
The Essential Count Basie, Vol. 1 1936-1938
The First Recordings He Ever Made
The Old Count and the New Count
This Time By Basie
The Count Basie Story
2001

Singles

Hurry Sundown/In the Still of the NightLaura/Secret Love
Related Categories:
External Resources:
Other Sites
Direct links to the same topic on other websites.
This category needs an editor