The Big Bopper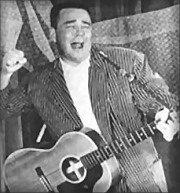 Born
Jiles Perry Richardson
Also Known As
Years
1930 - 1959
From
Styles
Search
Born Jiles Perry Richardson Jr., JP Richardson was known as The Big Bopper to his listeners on KTRM in Beaumont, Texas, where he worked as a disc jockey.

Jape, as he preferred to be called, also wrote songs and his most famous was Chantilly Lace, which was the third most played song on radio stations in 1958.

While on tour in the midwest the winter of 1959, The Big Bopper died in the same small plane crash that also killed Buddy Holly and Richie Valens.
Subcategories:
Releases:
Albums

Chantilly Lace
1958
Hellooo Baby!: The Best Of The Big Bopper, 1954-1959
1989

Singles

Chantilly Lace
1958
External Resources:
Other Sites
Direct links to the same topic on other websites.
This category needs an editor