Boney M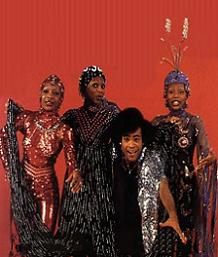 Years
1975 - 1994
From
Styles
Members
Bobby Farrell
DJ
Frank Farian
Producer
Liz Mitchell
Lead Vocals
Maizie Williams
Vocals
Marcia Barrett
Vocals
Reggie Tisboe
Vocals
Former Members
Search
Subcategories:
Brief Origin
Frank Farian recorded, "Baby Do You Wanna Bump?" in 1974 and created Boney M to support, few many years, the band began to grow. They split up in 1986, but rejoined in 88' for new compilations. They officially broke up in late 1994.
Contributed by:
Nafid Imran Ahmed
Releases:
Albums

-Take The Heat Off Me
1976
-Love For Sale
1977
-Nightflight To Venus
1978
-Oceans Of Fantasy
1979
-Magic Of Boney M
1980
-Boonoonoonoos
1981
-Christmas Album
1981
-Kalimba De Luna
1984
-Ten Thousand Lightyears
1984
-Eye Dance
1985
-20 Greatest Christmas Songs
1986
-The Best Of 10 Years
1986
-Greatest Hits Of All Times - Remix
1988
-Greatest Hits Of All Time - Remix Vol 2
1989
-Gold
1992
-The Most Beautiful Christmas Songs Of The World
1992
-More Gold
1993
-20th Century Hits
1999
-Their Most Beautiful Ballards
2000
Links:
Boney M Sound Files - Here are a few sound files from Boney M
Dogpile Web Search Home Page - Dogpile.com makes searching the Web easy, because it has all the best search engines piled into one. So you get better results from more of the web. More engines. Better Answers. One Click. Dogpile Web Search Official Home Page.
External Resources:
Other Sites
Direct links to the same topic on other websites.
This category needs an editor