Can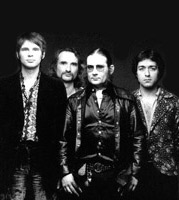 Years
1968 -
From
Styles
Members
<small>(Bass, Vocals)</small>

<small>(Drums)</small>

<small>(Percussion)</small>

<small>(Violin, Guitar)</small>

<small>(Vocals)</small>

<small>(Vocals, Bass)</small>

<small>(Vocals, Guitar)</small>

<small>(Vocals, Keyboards)</small>

Damo Suzuki

Holger Czukay

Irmin Schmidt

Jaki Liebezeit

Malcolm Mooney

Michael Karoli

Rebop Kwaku Baah

Rosko Gee

Search
Subcategories:
Biography:
Important, innovative, original German space band. The way they mixed electronics, avant-garde and "world music" ideas in a decidedly rock-orientated format was unlike anything anyone had done before, and was influential not only on latter-day improvisational prog bands such as Djam Karet and Ozric Tentacles, but also on new-wave and industrial bands. The band is graced by the best players Germany had to offer: Holger Czukay is probably second only to Helmut Hattler as far as German bass players are concerned. Jaki Liebezeit is an amazingly agile drummer, and on nearly all songs adds more than just drums, playing a wide array of different percussion instruments to keep the sound intriguing. Michael Karoli has a very individualistic guitar style consisting of smooth chordal glides and staccato plucking. And keyboardist Irmin Schmidt's training under avant-garde composer Karheinz Stockhausen really pays off musically, though he usually plays only organ and electric piano, you'd never guess it from the amount of electronic devices hooked up to his instruments.
Contributed by:
Jonathan Dunne - Gibraltar Encyclopedia of Progressive Rock
Releases:
CAN - 2 DVDs + 1 Audio CD

| | |
| --- | --- |
| Formats: | dvd + audio cd |
| Genre: | Progressive Rock - Experimental - KrautRock |
| Studio/Live?: | Live |
| Label: | Spoon Records |
External Resources:
Other Sites
Direct links to the same topic on other websites.
This category needs an editor