Kenny Chesney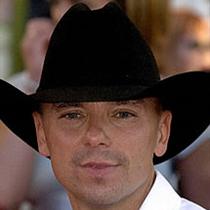 Born
Kenneth Arnold Chesney
Years
1968 -
From
Styles
Search
Subcategories:
Biography: Artist Biography
Born on March 26, 1968 as Kenneth Arnold Chesney in Luttrell, Tennessee. He's a high school graduate of Gibbs High School with a marketing degree from East Tennessee State University.
He started his music career with his first album in 1991 at Classic Recording Studio in Bristol, Virginia. After moving to Nashville with the money recieved from his thousand copies sold, he got a contract with BMI in 1992.
Since his first hit "Fall In Love" that hit charts in 1995, he has had much success. Chesney has had numerous #1's on the chart, as well as recieved many awards. In 2004, Chesney was Country Music Association's Entertainer Of The Year, which was also awarded to him again in 2006. February 2006, marked 25 million records sold for Chesney.
Releases:
Appearances:
Compilation Albums

1990's Country
Boot Scootin' 10
CDX, Volume 131: March 1996
CDX, Volume 270: July 2001
Country Christmas 2001
Country Christmas Classics
Country Traxx
Discovery Sampler Country, Volume One
ERG Nu Music Traxx, Volume 267
New Country - July 1995
Patriotic Country
Promo Only Country June 05
Promo Only Country Radio June 04
Promo Only Country Radio September 2004
Sounds of the Season: The Country Collection
Superstar Country Hits
Totally Country, Volume 1
Totally Country, Volume 4
Wonders of Wildlife
BBC Radio 2: Country Hits
disc 1
External Resources:
Newsgroups
Other Sites
Direct links to the same topic on other websites.