City Boy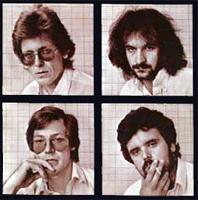 Years
1973 - 1982
From
Styles
Members
Lol Mason
Lead Vocals
Max Thomas
Keyboards
Mike Slamer
Guitars
Roy Ward
Drums, Backing Vocals
Former Members
Chris Dunn
Bass Guitar, Acoustic Guitar
Roger Kent
Drums
Steve Broughton
Guitar, Vocals
Tony Braunagel
Drums
Search
Subcategories:
Releases:
Appearances:
Compilation Albums

Great Britons, Vol. 2
1995
Super Hits of the '70s: Have a Nice Day, Vol. 25
1996
City Boy/Dinner At The Ritz
1998
Young Men Gone West/Book Early
1998
Anthology
2001
Related Categories:
External Resources:
Newsgroups
Other Sites
Direct links to the same topic on other websites.