DaHv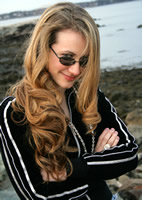 Born
Dahvin Daniels
Also Known As
Years
August 23, 1993 -
From
Styles
Search
Subcategories:
Biography: DaHv Bio
Radio Disney's Incubator program has produced some of the hottest young acts in the music business including B5, Kaci Brown, Teddy Geiger, and according to Billboard magazine "now the 14 year old unsigned DaHv is poised to follow in their footsteps"
"Kids are going to have an immediate connection to this music," says manager Jamie Gold, who discovered and launched the careers of Brandy and Ray-J, "Listening to her songs I was reminded of the feeling I had when I first heard Will Smith sing his hit 'Parent&'s Just Don't Understand."
"Zinga, Zing, Zong" sings 13-year-old DaHv (pronounced 'Dav'), on her track 'Pass the Shirley Temple' as she enjoys the simple pleasure of a Shirley Temple just like all kids her age - so alive with energy and spunk but a sharp contrast from the little baby who almost did not make it.
Working with producers Gary Carolla (Backstreet Boys, N Sync, Britney Spears, Aaron Carter, Stevie Brock) and C-ROD (Paulina Rubio, Muffy Nixon, Ricky Martin, OV7), DaHv's sound has elements of rap, pop, rock and one major ingredient - Attitude!
DaHv co-wrote all her songs with producer C-ROD. "I wanted to write about things that my friends and other kids my age could relate to" she says. "Going to the mall, the classes we all hate in school and all of the crazy things that go on at parties."
In "Pass The Shirley Temple", DaHv sings the praises of her favorite drink in these lyrics, "It's red, it's strong and it makes my brain go Zinga, Zing, Zong." Although taken from the view of a kid at a family function, 'Pass The Shirley Temple' has fast become the hot party track at colleges. "College kids get a different meaning out of Zinga, Zing, Zong than I do," says Dahv, "and that's totally cool with me - cause my music is all about having fun."
DaHv's latest track - 'Mean Girls', has grabbed the most attention. "We all know someone who's been mean to us", says DaHv, "and I wrote Mean Girls with all of those girls in mind."
Born in Danvers, Massachusetts on August 23, 1993, Dahv spent the first month of her life at the hospital, with her parents never leaving her side. "Doctors kept telling my parents that it was over - even told them to plan out my funeral, but my parents kept saying that I was going to make it and I did." Filling the Intensive Care Unit with George Thorogood, Amy Grant and Lynyrd Skynyrd - DaHv was exposed to a variety of music which seems to have shaped her life.
Contributor organisation:
Team DaHv
Releases:
Albums

DaHv
2005

Singles

7654321
2004
Daddy Don't Trip
2004
School
2004
Slumber Party
2004
We Can Rock
2004
Who's That
2004
Mean Girls
2005
Pass The Shirley Temple
2005
Random
2005
Laugh
2006
Suburbia/Disturbia
2007
External Resources:
Other Sites
Direct links to the same topic on other websites.
This category needs an editor