Eveningtide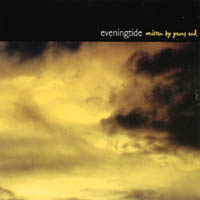 Years
2000 -
From
Styles
Members
Heath Hardesty
vocals, guitar
Jon Powers
drums
Rocky Rhoades
bass
Tristan Kelley
guitars
Former Members
Search
Subcategories:
Biography: Eveningtide
"It's a duplicitous thing-playing our music," says Heath Hardesty, vocalist and guitarist of eveningtide. "When we play, I feel completely naked on stage, raw, overexposed. Yet in those precarious moments I feel at peace. It's a balance I don't think I will ever get used to." However, eveningtide is known for their live shows. This hard to define four-man band is anchored by the orchestrated drumming of Jon Powers, interlocked by the memorable and melodic bass lines of Rocky Rhoades, quickened by the atmospheric guitars of Tristan Kelley, and spearheaded by the weaving guitar lines and lyrical probes of Heath Hardesty. Hard to label but easy to connect with, eveningtide has been dubbed everything from "pneuma rock" to "post punk-raw modern rock". Pushing ground in the likes of their inspirations, Radiohead, Wes Montgomery, The Police, Chasing Furies, Bad Religion, Foo Fighters, David, etc--eveningtide has something special to offer.
One can pinpoint the formation of eveningtide to the beginning of the new millennium, but its roots extend much deeper. In early 2000, Jon Powers and Heath Hardesty met through a series of spiritual meetings and a youth group called Planet Youth. Later that year at a youth camp in the snow-covered Rocky Mountains, an unexpected turning of events blew on the embers that would be eveningtide. The Planet Youth Band, led by Jon Powers, was in the middle of an extended set when the guitarist could no longer play due to unusual circumstances. Within moments Heath was asked to take the guitarists place. After the camp, Heath was asked to join the Planet Youth Band full time-and so started Jon and Heath's collaboration. The two quickly became friends and connected on a deep level. Jon soon took interest in the original material Heath was writing, and before long he was taking the tapes home that Heath made in his basement on his four track recorder; It was these crudely recorded tapes that became the seeds for eveningtide's first album.
In 2000 after much thought, practice, and unusual prophetic events-the decision was made to head into the studio. By the end of the year eveningtide's first album was recorded and finished. The album was produced and engineered by Glen Ballew and Mastered by Grammy winner David Galsser. Veteran bass player Ben joined the team for the "Written by year's end" sessions. The first official eveningtide concert took place on March 9th 2001 to an audience of 350 plus. With warm welcome and warm presence, the band was a reality, but looking for the right bass player was still ahead. Weeks later, Heath's long time friend, Adam Williams joined them.
The band soon found themselves playing with names such as Stavesacre, embodyment, Madverb, and Breathing Machine.
In 2002, Adam announced he was leaving the state to pursue other opportunities. Heath and Jon set to finding an eligible bass player. Rocky Rhoades stepped in for Adam toward the end of 2002. Once again eveningtide was complete. Soon after, Rocky's brother-in-law, Tristan Kelley, sat in with the band at a practice session. Shortly after, he was asked to join eveningtide. So the band, which since its inception had only been a three piece, entered a fresh phase as a four-piece band. "We have four different visions, but they're ultimately the same. We have to keep them balanced everyday. Music is the road that brought us together," comments Rocky on the unity of the band. The band is currently in the process of recording in their new studio.
With a unique synergy that is born from four impassioned hearts-live shows are often emotionally stirring, mentally awakening, and spiritually uplifting. Somehow intimacy is reached on a corporate level and strange things happen. Asked to comment on their inimitable live experience Heath said, "Sometimes the best shows aren't just shows-they are a telescope on a soul's largest passion-they are a microscope on a detailed intricacy of a relationship-this voyeurism somehow draws you in...just like any honest rock show should."
Releases:
This category needs an editor