Feeder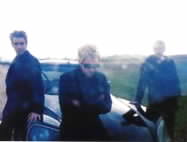 Years
1992 -
From
Styles
Members
Grant Nicholas
vocals, guitar
Jon Lee
drums
Taka Hirose
bass
Search
UK Indie Rock band, originally known as "Real". The band formed in 1992 in Wales, and changed their name to Feeder, in 1995 after signing to Echo.
Subcategories:
Releases:
Albums

Two Colours
1995
Swim
1996
Polythene
1997
Yesterday Went Too Soon
1999
Echo Park
2001

Singles

Stereo World [EP]
1996
Cement [EP]
1997
Crash [EP]
1997
High [EP]
1997
Tangerine [EP]
1997
Suffocate [EP]
1998
Day In Day Out [EP]
1999
Insomnia [EP]
1999
Paperfaces
1999
Yesterday Went Too Soon
1999
Buck Rogers
2001
Seven Days in the Sun
2001
External Resources:
Other Sites
Direct links to the same topic on other websites.
This category needs an editor