Search
Significant events in the history of Glass Harp and it's members Phil Keaggy, Daniel Pecchio and John Sferra.
Timeline:
March 23rd, 1951: Phil Keaggy Arrives
Philip Tyler Keaggy enters this realm on this day in Youngstown, Ohio.
May 20th, 1952: John Sferra Born
Glass Harp drummer John Sferra is born in Youngstown, Ohio.
1968: Glass Harp Is Formed

After playing in the Keytones, the Vertices, the Squires and the Volume Four which would become the New Hudson Exit, Phil Keaggy forms a power trio in the tradition of Cream and The Jimi Hendrix Experience. John Sferra is on drums and Steve Markulin plays bass. Their first gig is at the Bellfrey Roller Arena.
1969: Daniel Pecchio joins Glass Harp

John Carazino takes over the bass slot briefly, turning the position over to The Poppy's Daniel Pecchio. Glass Harp starts to rock Youngstown and the rest of the world!
1970: Glass Harp

Release of the first Glass Harp album on Decca Records.
More Information...
1971: "Synergy"

The Harp's second album is released on Decca.

They perform at Carnegie Hall and the concert is recorded to be released as their forth album. It never is.
More Information...
1972: "It Makes Me Glad"

Glass Harp's third and final Decca album is released as Phil Keaggy desides to leave the band to pursue a solo career in the Christian music field.

Glass Harp continues, adding Tim Burks on guitar and Randy Benson on violin.
More Information...
1973: Glass Harp Disbands
Glass Harp officially calls it quits as a band.
1974: John Sferra

John Sferra moves on to several bands including the Great Lakes Band and the Motion.
1974: Daniel Pecchio

After Glass Harp disbands, Pecchio helps co-found The Michael Stanley Band.
1977: "Song In The Air"

Star Song Records releases a compilation album of Glass Harp songs pulled from the three Decca releases and aimed at the rapidly growing Christian rock music market.
More Information...
1981: Reunion Concerts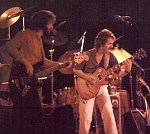 Glass Harp reunites for two concerts in Akron, Ohio April 10th and 11th, 1981.
1984: Reunion Concert
Glass Harp reunites once again for a concert in Cleveland.
December 27th, 1988: Reunion Concert
Glass Harp plays Akron again.
1990: Paul McCartney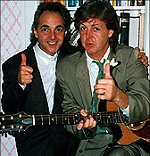 September 1990 found Phil singing and playing at the wedding of his friend Laura Eastman, Linda McCartney's sister. Also at the wedding was Laura's brother-in-law Paul McCartney.

After the wedding Phil and Paul met up for an impromptu jam session. Paul's remark to Phil about his wedding song was, "You did a fine job".


1993: Crimson and Blue / Blue / Revelator

Two thirds of Glass Harp, Phil Keaggy and John Sferra, reunite on this trio of releases.

Crimson and Blue was packaged for the Christian Rock audience, with Revelator a bonus CD of alternate takes and mixes, available for those who bought C and B. Blue was the same album, with a slightly different song lineup and a couple of songs deleted and replaced with others, all for the general rock market.

Crimson and Blue was the first time Phil & John had recorded together for international release in 21 years, co-writing "The Further Adventures of..." for Revelator.
1994: Glass Harp on CD
German record company Line licenses the Decca tapes and releases each of the three Decca albums on CD with original cover art. They are only available in Europe and must be ordered as an import to the United States. They become much sought after.
1996: Northbound

John Sferra's first solo album release. Features help from Phil Keaggy.
1997: Reunion Concert
Glass Harp returns to the Akron Civic Theatre for two concerts.
1997: "Live At Carnegie Hall"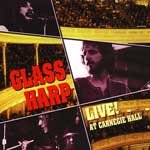 Canis Major, an independant record company, manages to license the Carnegie Hall tapes and releases the Live Album in limited numbers .
More Information...
April 19th, 1997: Rock Hall

In January, Glass Harp plays a special concert at Cleveland's Rock and Roll Hall Of Fame. They receive an honorary award and contribute personal articles that will become a special exhibit called My Town focusing on Ohio based bands.

Members of the Outsiders, the Poni-Tails, the Michael Stanley Band, the Raspberries, the Dead Boys, Pere Ubu and the O'Jays were also featured.
October 22nd, 2000: Powers Auditorium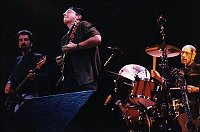 For the first time in 28 years, Glass Harp comes home to Youngstown, with a sold out concert featuring the Youngstown Symphony Orchestra. The show is recorded on A-Dat for archival purposes only.
January 23rd, 2001: Robin Hood
Phil, Daniel and John go back to one of their old haunts from the early days, the Robin Hood Inn in Kent, Ohio.
March 24th, 2001: Nashville, TN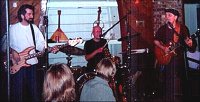 The Harp hits Music City for the Sip 'O Seatle show in Nashville.
March 25th, 2001: Dallas Texas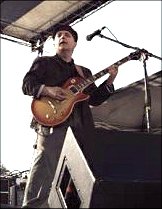 Phil, John and Daniel travel to Dallas, Texas as one of the featured bands at the Greater Southwest Guitar Show.
June 21st, 2001: "Strings Attached"

Even though the Powers Auditorium reunion concert in Youngstown was recorded on A-Dat for archival purposes only, the recording came out so well, that the band decided to try and get all the permissions to release it as a CD. No record label was interested, so after getting the clearances, they released it on their own label, Special Friends, to great reviews.
More Information...
June 22nd, 2001: Alive 2001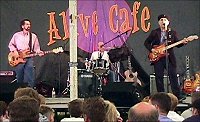 Daniel and John make a surprise appearance backing up Phil at the Alive 2001 Christian Music Festival.
June 30th, 2001: Meet and Greet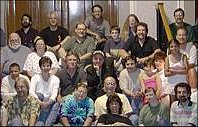 At the suggestion of a friend, the members of Glass Harp invite their most loyal fans from around the country, to be their special guests at their rehearsal the day before the concert at the band's first ever "Meet and Eat", providing catered food for the fans after the rehearsal.
July 1st, 2001: Stambaugh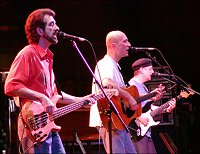 A year after the sold out Powers reunion concert, Glass Harp returns to their hometown of Youngstown, Ohio to another sold out audience, this time at the elegant Stambaugh Auditorium. A string section from the Youngstown Symphony Orchestra once again joins the band.
August 11th, 2001: Mill Creek Park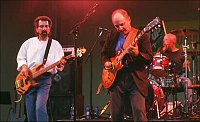 Glass Harp concert at the Mill Creek Park, Youngstown, Ohio.
November 11th, 2001: Canal Street Tavern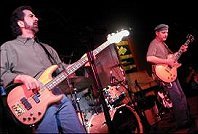 Glass Harp plays two concert at the Canal Street Tavern in Dayton, Ohio on the 11th and 12th.
More Information...
December 1st, 2001: Niles, Ohio
John and Daniel make an unannounced appearance with Phil at Niles, OH.
More Information...
January 20th, 2002: Powers Auditorium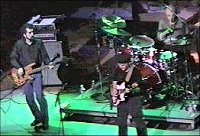 This "Strings Re-Attached" concert was a benefit for the Youngstown Symphony Orchestra at Powers Auditorium, Youngstown, OH.
More Information...
May 11th, 2002: Agora Theatre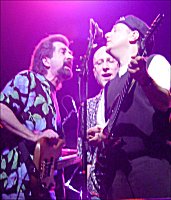 Cleveland, Ohio
More Information...
July 27th, 2002: Creation West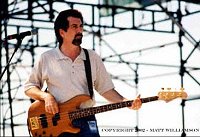 Glass Harp performs at the Creation West Christian music festival at the Gorge Amphitheatre, George, WA, July 27, 2002.
More Information...
August 2nd, 2002: Garrettsville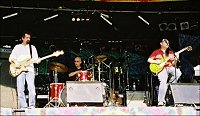 Nelson Ledges Quarry Park, Garrettsville, Ohio.
More Information...
September 14th, 2002: Boardman Ohio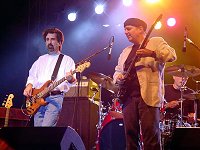 B&B Backstage
More Information...
March 23rd, 2003: Cleveland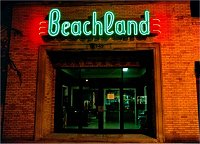 Beachland Ballroom, Cleveland, Ohio.


(Photo © A. Kirchner)
More Information...
August, 2003: "Hour Glass" Released

Glass Harp reunites to release their first studio album in 31 years to great fan response.
More Information...
August 2nd, 2003: Cleveland Heights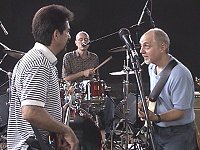 Evans Amphitheater, Cleveland Heights, Ohio.


(Photo © 2003 Neal Williams)
More Information...
August 3rd, 2003: Glass Harp Rocks The Rock Hall...Again!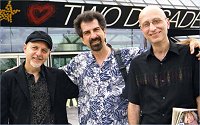 Rock And Roll Hall Of Fame, Cleveland, Ohio


(Photo © 2003 Stephanie Bargenquast)
More Information...
October 26th, 2003: Glass Harp In Rock Hall Sell Out Concert !
Once again, Glass Harp performs to a standing room only crowd at the Rock and Roll Hall of Fame in Cleveland.


(Photo © 2003 Stephanie Bargenquast)
More Information...
October 27th, 2003: Around Noon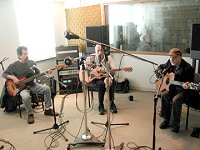 Glass Harp does an in-studio radio broadcast on WCPN's "Around Noon".


(Photo © 2003 Joseph Sheppa)
2004: Stark Raving Jams released

An album of Glass Harp jams!
More Information...
This category needs an editor