Reilly, David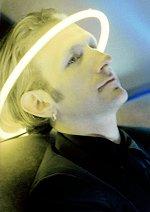 Born
David Fitzgerald Reilly
Also Known As
Years
May 5, 1971 - October 16, 2005
From
Styles
Search
As singer, and half of the electro-rock band God Lives Underwater, 1999-2003 brought God Lives covering David Bowies "fame" for the film "15 minutes", the death of Davids Fiance Seven in a train accident, the bankruptcy/merger of a&m, the bankruptcy of the company riffage, who had taken control of 1500 and the album by GLU to be called "up off the floor", and the Marriage of Jeff Turzo. David released an electronic/instrumental album called "Robot Teen America", and formed a traditional rock outfit called FLUZEE who released "the 7 EP" both of which were without company backing, and suffered consequences of such. 2004 saw the release of GLU's anticipated "Up off The Floor", which was released worldwide in June on Megaforce/Locomotive with a manufacturing flaw that to this day has yet to be resolved, making the product virtually unlistenable. 2004 saw David's return to touring and his first foray into recording as a solo artist, with the Corporate Punishment EP "inside", which has rare demo versions of 6 songs. In late 2004, solo negotiations began between David and Ruff Nation/tri-media/universal the label out of philadelphia run by Chris Schwartz. Tragically May of 2005 Davids girlfriend Amy passed away, and Davids condtion made negotiations take longer than expected. Then, officially signed to Ruff Nation, "how humans R(x)", the full length album, is due in february of 2006. David Reilly passed away in October of 2005 because of complications from an ulcer that he had. He was 34 years old.
Subcategories:
Releases:
Albums

Inside EP
2004
How Humans Rx
2006

Singles

Far From Home
2004
My Till Tomorrow
2004
Here We Go Now
2005

Online Releases

Ordinary Man
1987
1 Ft. In The Grave
2004
Far From Home (version 2)
2004
Keep Dreaming
2004
Love Will Complicate
2004
My Till Tomorrow (version 1)
2004
Saying Goodbye
2004
Spinning
2004
Stay
2004
7/Amy
2005
Broken Hearted
2005
Crazier Than Me
2005
Here We Go Now (Version 1)
2005
Here We Go Now (Version 2)
2005
Just A Clear Mind
2005
Love My Way
2005
My Till Tomorrow (version 2)
2005
Please Come Back (Godspeed)
2005
Armada Soundsystem Interview With David Reilly
October 2005
Appearances:
Compilation Albums

Fluzee - 7 EP [2001]
God Lives Underwater - Empty [1995]
God Lives Underwater - Life In The So-Called Space Age [1998]
God Lives Underwater - Up Off The Floor [2004] God Lives Underwater [1995]
Robot Teen America - Living In Syn EP [1997]
Links:
Related Categories:
External Resources:
Other Sites
Direct links to the same topic on other websites.
This category needs an editor