Good Charlotte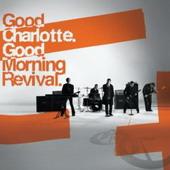 Years
1996 -
From
Styles
Members
Benji Madden
Lead Guitar, Backing Vocals
Billy Martin
Rhythm Guitar
Dean Butterworth
Drums, Percussion
Joel Madden
Lead Vocals
Paul Thomas
Bass Guitar
Former Members
Aaron Escolopio
Drums, Percussion
Chris Wilson
Drums, Percussion
Search
Good Charlotte
American pop punk band from Waldorf, Maryland that formed in 1996. They took their name from the children's book called "Good Charlotte: The Girls of Good Day Orphanage," written by Carol Beach York.
Subcategories:
Releases:
Albums

Cardiology
Good Charlotte
Good Morning Revival
The Chronicles of Life and Death
The Young and the Hopeless

(1 review)

Singles

Dance Floor Anthem
Festival Song
Girls & Boys
Hold On
I Just Wanna Live
Keep Your Hands off My Girl
Lifestyles of the Rich & Famous
Little Things
Misery
Predictable
The Anthem
The Chronicles of Life and Death
The Click
The Motivation Proclamation
The Young & the Hopeless
We Believe "The River
Where Would We Be Now

Online Releases

The Anthem
2002
Appearances:
Compilation Albums

Greatest Remixes
Liberation
External Resources:
Other Sites
Direct links to the same topic on other websites.