Jones, Steve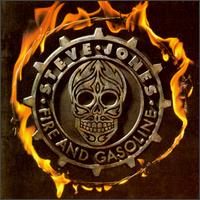 Years
1955 -
From
Styles
Search
Subcategories:
Biography:
Stephen Phillip Jones, was born in Shepards Bush on September 3rd 1955. Growing up wasn't easy for Jones, his parents were not exactly affectionate,he rarely bothered going to school and he had a criminal record by the age of twelve. The 9 to 5 world,was not what he wanted to be aprt of. He worked for a time as a window cleaner,spending most of that time in the beds of lonley housewives on his round. His Step-Father,had kicked him out of the family home,at the age of 16,due to Jones's aversion to working. In the years to come,Jones would realise that music was his way out and in 1972,the first incarnation of what we now know as the Sex Pistols,came about. The initial band featured Jones, Paul Cook and a guy named Wallie Nightingale. Various names,such as Q.T.Jones and the Sex Pistols and The Swankers were used. Later Steve got to know Malcolm Mclaren,being that Jones was a regular theif at the boutique Mclaren and Vivien Westward owned. It was here that the Sex Pistols were born. Jones had finally found his way out. Although various contributing factors were to ensure that it wouldn't last long. By 1978 the band had split, Jones was at the beginning of a heroin addiction, one that would be his life until 1987. During that time, he formed The Professionals,with old mate Paul Cook and a guy called Andy Allan. Hospitalisation,Jones nearly dying 'more than once', working with Ronnie Biggs and Jones and Cook acting ('The Great Rock and Roll Swindle' ,1979 and 'Ladies and Gentlemen The Fabulous Stains', 1980 were the main events that took place in his life during this time. In 1987 and 1989, Jones showed his singing and songwriting talenst on his solo albums, 'Mercy' and 'Fire and Gasolline', the latter Jones now describes as his 'silly rock phase'. A shortlived band,called Fantasy 7, appeared in the early 1990s, Jones has spent much of time producing various bands nad guesting on albums. 1n 1995, the Neurotic Outsiders,were formed. A 'supergroup' made up of Steve Jones, Duff McKagen,John Taylor and Matt Sorum - they were originally the resident band at Johnny DEpps,famous Hollywood Nightclub, The Viper Room - a self titled album was released in 1996 - that very year The Sex Pistols reformed. Jones, seemed happy about this reunion, it's clear that he loved this band and had been lost formany years without it. In 1998 Jones,made a return to acting with an appearence in the movie 'Four Dogs Playing Poker', In 1999, he had a role in 'Mascara' The role of Producer was Jones,throughout this period. He has played as a guest onstage with various bands and worked with other artists. 2002 saw the pistols reunite for two dates, Crystal Palace,USA and California,USA. For the past few years Jones,has played for the Football team,Hollywood UTD. Football and Playstation are his leisure activities. He describes himself as; 'a playstation junkie'. The summer of 2003,saw a 20-date Pistols tour of North America. A solo album features in Jones's plans for '04 and a role in the upcoming movie 'The Big Bounce'. Jones continues to stay around featuring on the music scene,without becoming over exposed. He has come through a lot, a brilliant self taught guitarist. A great guy,one who we should all admire. br>
Contributor organisation:
http://groups.msn.com/TributetoJonesy
Releases:
Related Categories:
External Resources:
Other Sites
Direct links to the same topic on other websites.
This category needs an editor