Kairos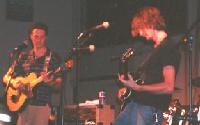 Years
2001 -
From
Styles
Members
Dominic Misja
keyboards, violin, bass
Drew Rodaniche
percussion
Jason Sturm
guitar, vocals
Josh Sturm
guitar, backing vocals
Search
Subcategories:
Biography: Living a Godly Life in a Rock and Roll World
Kairos went through many incarnations before it became the band that it is today. Becoming widely known across the Altoona and State College areas in central Pennsylvania, Kairos is a group of four young men pursuing God, music, and education in an inspiring way. Their blend of acoustic and electric guitars, traditional hand percussion instruments, and ethereal vocals attract listeners of all types. The band has honed their talents over the past few years, performing wherever they could -- bars, talent shows, open mic nights, events on campus, and so on. They continue to grow and inspire others with their sound and their faith.
Contributed by:
hikaruchan
Contributor organisation:
MusicMoz, and a friend of the band
Releases:
User Reviews:
Great music, even greater guys.
I came to know these guys mainly through their drummer Drew Rodaniche, and they're all just awesome people. Totally down to earth and also very talented. It's no surprise to me that their open-mindedness brings such great music. I wish you guys all the best of luck.
Rating:





Contributed by:
Ryan Flach
Contributor e-mail:
r_flach@hotmail.com
Related Categories:
This category needs an editor