The Kentucky Headhunters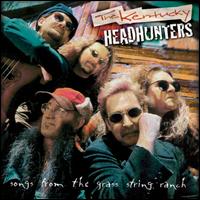 Years
1986 -
From
Styles
Members
Anthony Kenney
bass, vocals
Doug Phelps
vocals
Fred Young
drums, percussion
Greg Martin
guitars
Richard Ripani
piano, organ
Richard Young
rhythm guitar
Former Members
Mark Orr
vocals
Ricky Lee Phelps
harmonica, vocals
Search
Rowdy honky tonk, blues rock band from Edmonton, Kentucky. The Kentucky Headhunters originally began in 1968, as The Itchy Brothers.
Subcategories:
Releases:
Albums

Pickin' on Nashville
1989
Electric Barnyard
1991
Rave On!
1993
Best of the Kentucky Headhunters: Still...
1994
Stompin' Grounds
1997
Songs from the Grass String Ranch
2000

Singles

Dumas Walker
1990
Oh Lonesome Me
1990
Ballad of Davy Crockett
1991
External Resources:
Other Sites
Direct links to the same topic on other websites.
This category needs an editor