B.B. King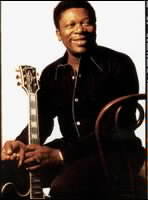 Years
16 September, 1925 -
From
Styles
Search
Tagged the King of Blues, B.B. King was born, Riley B. King, in Indianola, Mississippi.
Subcategories:
Releases:
Albums

Singin' the Blues
1956
B.B. King Wails
1960
Blues, The
1960
Great B.B. King, The [B. B. King and His - compilation]
1960
Sing Spirituals
1960
King of the Blues [compilation]
1961
More
1961
My Kind of Blues
1961
Blues for Me
1962
Blues in My Heart
1962
Easy Listening Blues
1962
Heart Full of Blues
1962
I Love You So [compilation]
1962
Twist with B.B. King
1962
Mr. Blues
1963
Swing Low
1963
Rock Me Baby
1964
Boss of the Blues
1965
Confessin' the Blues
1965
Let Me Love You
1965
Live at the Regal
1965
Live: B. B. King on Stage
1965
9 X 9.5
1966
Greatest Hits, Volume 1 [compilation]
1966
Original Sweet Sixteen, The
1966
Soul of B. B. King, The
1966
Turn on to B.B. King
1966
Blues is King
1967
Jungle, The
1967
R and B Soul
1967
B.B. King Story [compilation]
1968
Blues on Top of Blues
1968
Greatest Hits of B.B. King, The [compilation]Lucille
1968
His Best: The Electric B.B. King [compilation]
1968
Anthology of the Blues: B.B. King [compilation]
1969
B.B. King Story 2 [compilation]
1969
Feeling They Call the Blues, The - Volume 2
1969
Best of B.B. King, The [compilation]
1973
Greatest Hits [compilation]
1974

Singles

Blues Come Over Me
1992
Thrill is Gone
1992
Related Categories:
External Resources:
Other Sites
Direct links to the same topic on other websites.
This category needs an editor