Rahsaan Roland Kirk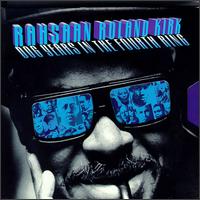 Years
7 August, 1936 - 5 December, 1977
From
Styles
Search
Charismatic performer and multi-instrumentalist, Rahsaan Roland Kirk was born Ronald T. Kirk, in Columbus, Ohio.
Subcategories:
Releases:
Albums

Early Roots
1956
Soulful Saxes
1956
Triple Threat
1956
Introducing Roland Kirk
1960
Does Your House Have Lions: The Rahsaan
1961
Kirk's Work
1961
Pre Rahsaan
1961
Rahsaan: The Complete Mercury Recordings of
1961
Talkin' Verve: Roots of Acid Jazz
1961
We Free Kings
1961
Domino Verve
1962
Dog Years in the Fourth Ring
1963
Kirk in Copenhagen [live]
1963
Reeds and Deeds
1963
Gifts and Messages
1964
I Talk to the Spirits
1964
Roland Kirk Meets the Benny Golson Orchestra
1964
Here Comes the Whistleman
1965
Rip, Rig and Panic/Now Please Don't You Cry
1965
Rip, Rig, and Panic
1965
Slightly Latin
1965
Funk Underneath
1967
Inflated Tear, The
1967
Now Please Don't You Cry, Beautiful Edith
1967
Aces Back to Back 32
1968
Left and Right
1968
Volunteered Slavery
1969
Live in Paris, Volume 1
1970
Rahsaan/Rahsaan
1970
Blacknuss
1971
Natural Black Inventions: Root Strata
1971
I, Eye, Aye: Live at the Montreux Jazz
1972
Meeting of the Times, A
1972
Art of Rahsaan Roland Kirk, The
1973
Bright Moments [live]
1973
Prepare Thyself to Deal with a Miracle
1973
Case of the 3-Sided Dream in Audio Color, The
1975
Return of the 5000 Lb. Man, The
1975
Kirkatron
1976
Other Folks' Music
1976
Boogie-Woogie String Along for Real
1977
External Resources:
Other Sites
Direct links to the same topic on other websites.
This category needs an editor