Maciej Kossowski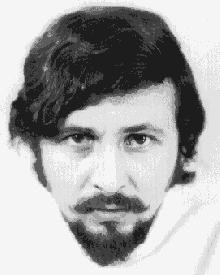 From
Search
Polish vocalist, from New York City.
Subcategories:
Biography: Dixieland
The power of American music culture is quite impressive for it penetrates all corners of the globe.
Still, when Maciej Kossowski recorded four tunes with "Warsaw Stompers" in 1964 he did it in a fairly isolated country behind the "Iron Curtain" in Poland. Sure there were dixie bands in Warsaw and Gdansk and other cities playing in a student clubs classic dixie tunes like: "Rampart Street Parade." However, this hot music clearly American was not allowed on the principle Radio waves.
Maciej Kossowski changed that by recording home grown songs written by Jozef Krzeczek and Wlodzimierz Patuszynski with the best dixie band in Poland the "Warsaw Stompers" (Warszawscy Stompersi) in Polish language.
Immediately a couple of songs received radio play and gained hit status, getting on the Polish Top 10.
Contributed by:
Frank Nehring
Contributor e-mail:
frank_nehring@hotmail.com
Contributor organisation:
Frank Nehring Promotions
Releases:
Albums

Maciej Kossowski
Maciej Kossowski with the Studio Rytm Orchestra
Maciej Kossowski with the Warsaw Stompers
Maciej Kossowski and Czerwono - Czarni
1964
Maciej Kossowski and the Tajfuny
1967
Maciej Kossowski with group Czerwono-Czarni
1967
Maciej Kossowski with the group Tajfuny
1967
Nie Mowie Zegnaj

(1 review)

1996
External Resources:
Other Sites
Direct links to the same topic on other websites.
This category needs an editor