Kraftwerk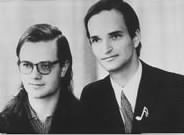 Years
1970 -
From
Styles
Members
Florian Schneider
flute, electronic percussion, strings, vocals
Ralf Hütter

Former Members
Andreas Hohman
drums
Karl Bartos
keyboards, electronic percussion
Klaus Dinger
drums
Klaus Roeder
guitars, violin
Michael Rother
guitars
Wolfgang Flür

Search
Robot Pop band from Düsseldorf, Germany.
Subcategories:
Releases:
Albums

Kraftwerk 1
1971
Kraftwerk 2
1972
Ralf and Florian
1973
Autobahn
1974
Radio-Activity
1975
Trans-Europe Express
1977
Die Mensch Maschine
1978
Man-Machine, The
1978
Computer Welt
1981
Computer World
1981
Techno Pop
1983
Electric Cafe
1986

Singles

Tour de France [ep]
1983
Musique Non-Stop
1986
Trans-Europe Express
1990
Links:
Kraftwerk tickets - www.sharkticks.de offers tickets for german kraftwerk events. Feel free to contact the webmaster for a rabate.
Related Categories:
External Resources:
Other Sites
Direct links to the same topic on other websites.