Malaysian Philharmonic Orchestra (MPO)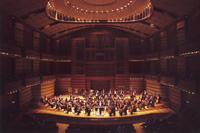 Also Known As
Orkestra Filharmonik (Petronas) Malaysia
Years
1998 -
From
Styles
Search
Subcategories:
(selected quotes)
"..plays with such great enthusiaism, it is a fine orchestra." - Sir Neville Marriner, MPO's first guest conductor

"Its on the way to becoming - if it isn't already - the best orchestra in Southest Asia.." - Hans-Theodor Wohlfahrt, international critic for classical music publications Time Magazine

"The Orchestra is magnificent, absolutely great. They are amazing in their response to the music that is being played …" - Simon Preston, Organist

"….the MPO under its Music Director Kees Bakels was expectedly brilliant …" - New Straits Times
Contributed by:
(see credits)
Biography: Hear & You Will See...
When plans for Malaysia's first classical music concert hall were finalized, it was only natural that an internationally acclaimed venue should also have its own world-class symphony orchestra. The result of this dream was the Malaysian Philharmonic Orchestra (MPO)
Since its inaugural performance on 17th August 1998, MPO has consistently impressed its audiences with excellent performances. It continues to receive accolades from visiting artists and guest conductors who sing praises for the Orchestra's quality, energy and vitality. Today it is without doubt that the Orchestra has garnered a loyal and appreciative following among the Malaysian community under the leadership of Music Director Kees Bakels, Resident Conductor Datuk Ooi Chean See and Associate Conductor Kevin Field.
Proudly funded by Petroliam Nasional Berhad (PETRONAS), the MPO is a remarkable harmony of diverse cultures and nationalities. Each of its 105 musicians is an outstanding individual who has worked with many other renowed orchestras making it a cultural ambassador for the country. Through utmost dedication to its craft, it has earned a work-class reputation that has drawn many leading international artists to perform with the Orchestra.
As a springboard for developing an appreciation for classical music, the MPO has not only contributed immensely to the social development of Malaysia but has also become a major attraction in the nation's cultural landscape. Besides a performance in conjunction with the 1998 Commonwealth Games in Kuala Lumpur, the MPO has also brought its sensational sounds to Malaysian communities in Ipoh, Penang, Johor Bahru and Kuching. It made it's first international tour to Japan and Korea in November 2001. Other tours include visits to the Singapore Arts Festival in late 1999 and June 2001. More local and foreign tours have also been planned for the near future.
To fulfill its mission of imparting skills to Malaysian youths and nurturing home-grown talent, the MPO set up Encounter - It's Education and Outreach Programme to educate and create awareness and appreciation of classical music through various activities which include workshops, instrumental lessons and schools concert. As Malaysia's first orchestral education programme, it continues to inspire and cater to all ages and stages from music enthusiasts to those experiencing music for the first time. Within the same artistic environment, the MPO's Encounter launched the MPO Forum for Malaysian Composers in June 2002 - A year long programme focusing on the development and promotion of local talent which will culminate in a week of intensive integration with the MPO musicians.
For centuries music has played an integral part in the emotional and intellectual development of society. For the MPO, the phrase "Hear, and You Will See" was created to convey this beauty of music. Whether as an avenue for joy or passage to serenity, music has the power to take the listener on a magical journey of the senses where one can hear, see and feel what it sis that one might imagine in the music.
From http://www.sabahtourism.com/events/mpo/background.asp
Contributed by:
Sabah Tourism Board
User Reviews:
Malaysian Philharmonic Orchestra - 14 September 2002 - INKPOT
"Although a young orchestra formed as recently as 1998, the Malaysian Philharmonic Orchestra (MPO) has embarked on an ambitious campaign to surmount some of the more difficult pieces in the classical symphonic repertoire. Mahler has figured prominently in their efforts, with his Symphony No.2 "Resurrection" performed in 2001, and this year, his last symphony - No. 9 and otherwise untitled - under the baton of Benjamin Zander. ... Zander made an effort to mingle with his audience as we streamed out of the Dewan. He was a personable and happy character, streaming in sweat but bursting with satisfaction. I was impressed with the steadiness of his hand when he autographed my score - few but the fittest of men could write steadily after conducting Mahler 9. For all the notions of death associated with this work, Benjamin Zander is the acme of a life in its prime. " See complete review at http://inkpot.com/concert/mpo020914.html
Contributed by:
Tan Beng Ti
Contributor organisation:
The Flying Inkpot (Classical Music Section)
This category needs an editor