Matlock, Glen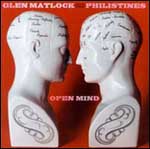 Years
1956 -
From
Styles
Search
Subcategories:
Biography: Glen Matlock
One of the original Sex Pistols and founder of the band along with Steve Jones and Paul Cook.
Replaced with the notorious Sid Vicious in 1977 after a conflict in the band.
After a short success with the Rich Kids in 1978, Matlock joined Iggy Pops band and toured with him in 1979.
Since then, Matlock have contributed to numerous projects, including Primal Scream, The Damned, London Cowboys, several Iggy Pop albums, The Screwballs, The Sex Pistols' 20th-anniversary reunion tour, and the "Sid and Nancy - Love Kills" Soundtrack.
Releases:
Albums

Who's He Think He is When He's at Home?
1996
Open Mind
2000

Singles

My Little Philistine
1996
Appearances:
Compilation Albums

The Rich Kids - Ghosts of Princes in Towers
1978
Iggy Pop - Soldier
1980
Johnny Thunders - Que Sera, Sera
1985
The Sex Pistols - Anarchy in the UK: Live at the 76 Club
1985
Original Soundtrack - Dogs in Space
1987
The Sex Pistols - We Have Cum for Your Children
1988
The Sex Pistols - Live at Chelmsford Top Security Prison
1990
Midge Ure - If I Was: The Very Best of Midge Ure & Ultravox
1993
Various Artists - Brace Yourself!: A Tribute to Otis
1993
Sid Vicious & the Vicious White Kids - Live at the Electric Ballroom
1994
Gene October - Life and Struggle
1995
Ian Hunter - Dirty Laundry
1995
Iggy Pop - We Are Not Talking About Commercial Shit!
1995
The Sex Pistols - Pretty Vacant
1995
The Damned - Not of This Earth
1996
The Sex Pistols - Never Mind the Bollocks Here's the
1996
Iggy Pop - Heroin Hates You
1997
Primal Scream - Vanishing Point
1997
The Sex Pistols - Back & There Again
1997
Various Artists - History of Punk
1997
Various Artists - Mick Ronson Memorial Concert
1997
Various Artists - MTV's 120 Minutes Live
1998
Iggy Pop - Nuggets
1999
Johnny Thunders - Born Too Loose
1999
Mick Ronson - Memorial Show
2001
Eileen Rose - Long Shot Novena
2002
Johnny Thunders - Que Sera, Sera [Japan Bonus Track]
2002
The Damned - I'm Alright Jack & the Bean Stalk
2002
The Sex Pistols - Jubilee: The Best Of
2002
Various Artists - Complete Punk Collection: Cash From Chaos
2002

Soundtrack Albums

Sid and Nancy
1986

Box Sets

The Damned - Box Set
1999
Related Categories:
External Resources:
Other Sites
Direct links to the same topic on other websites.
This category needs an editor