Moore, Christy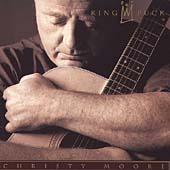 Years
1945 -
From
Styles
Search
Subcategories:
Biography:
Born in Co. Kildare, Ireland, Moore's music career began in the mid-sixties when he moved to England. He spent a few years playing pubs and clubs around England. On his return to Ireland Christy released his "Prosperous" album which quickly became a milestone in the revival of Irish music.
In 1972 Moore joined other noted Irish artists such as Donal Lunny and Andy Irvine to form the band Planxty. Moore grew tired of life as a band and despite short-lived Planxty revival in 1978, the band decided to call it a day and pursue solo careers. However, Lunny and Moore would team up again in the eighties to form Moving Hearts, this innovative duo successively combined jazz and folk to produce 2 unique albums.
Moore once again concentrated on his solo career and during the eighties released many acclaimed albums and high profile tours. In the nineties, as well as taking a 3 year break from the business, Moore managed to release 7 successful albums and a string of concert dates. His latest album Live At Vicar Street is a live recording from a succession of live shows.
Releases:
External Resources:
Other Sites
Direct links to the same topic on other websites.
This category needs an editor