Search
An eclectic blend of unique songs, appealing to an array of musical tastes.
Audio samples for this album, are available at the
Parade website
.
Subcategories:
Life* in Ten Songs or Less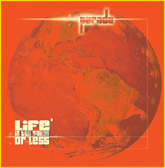 Recorded and mixed by Spencer Gibb and Luis Guerrero, entirely on location at Lowlight Sound, Austin, Texas.
Mastered by Jim Wilson, Yes Mastering, Austin, Texas.
Photography and graphic design by Spencer Gibb and Marie-Andree Koenig.
Released:
2002
Formats:
CD
Genre:
Modern Rock / Ambient / Classic Rock
Studio/Live?:
Studio
Label:
F*#!ing Good Records
Distributor:
cdbaby.com
Producers:
Luis Guerrero, and Spencer Gibb for Fresh Ears.
Guest Musicians:
Geno Stroia II (bass); Stewart Cochran (keyboards, vocals); Brian Mendes (drums).
Additional Musicians: Spencer Gibb (guitar, vocals); Ephraim Owens (trumpet); Luis Guerrero (bass); Brannen Temple (percussion); Steve Sanders (drums, percussion); Female vocals: Sandra Gilmette, Laquetta Phillips, and Sheree Smith of The Memphis Train Review.
Catalogue Number:
PAR001
UPC/EAN:
634479385629
| | |
| --- | --- |
| 1 | Wake Up |
| 2 | Burial Ground |
| 3 | The Last Time |
| 4 | Turn Me Down |
| 5 | Are You Happy? |
| 6 | Shakin' (on the inside) |
| 7 | So Numb |
| 8 | Smile |
| 9 | Myself |
| 10 | Delicate |
| 11 | The Last Day on Earth |
This category needs an editor