Proto-Kaw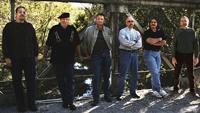 Founded As
Kansas
Also Known As
Years
2003 -
From
Styles
Members
Craig Kew
Bass Guitar
Dan Wright
Keyboards
Jake Livgren
Guitar, Percussion, Backing Vocals
John Bolton
Saxophone, Flute
Kerry Livgren
Guitar, Piano
Lynn Meredith
Lead Vocals
Mike Patrum
Drums
Former Members
Brad Schulz
Drums
Don Montre
Piano, Flute
Rod Mikinski
Bass Guitar
Zeke Lowe
Drums
Search
Proto-Kaw is today's reincarnation of the second lineup of the progressive rock band Kansas. Known to music historians as Kansas II, the band eventually folded and founder Kerry Livgren moved over to the group White Clover. But the members of White Clover decided that Kansas was a better name for a band, and since it was no longer being used, they changed their name to Kansas and became the band the world is familiar with.

Livgren has put the Kansas II band back together using original members under the name Proto-Kaw, meaning Pre-Kansas.
Subcategories:
Releases:
Related Categories:
External Resources:
Newsgroups
Other Sites
Direct links to the same topic on other websites.