Ramzy, Hossam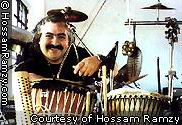 From
Styles
Search
Subcategories:
Biography: Biography: Hossam Ramzy
Hossam was born in Cairo, Egypt. His musical career began as early as the age of three when he was given his first drum, an Egyptian traditional Tabla. Hossam was encouraged by his artistic family members to master his craft and studied under leading Cairo music teachers. When he moved to Saudi Arabia he joined several Bedouin tribes which gave him a rich insight into the cultural origins of Middle Eastern music and became the inspiration for many of his later rhythmic directions. In the mid 1970's Hossam moved to England, and enjoyed great success as a Jazz drummer working with many respected Jazz musicians including Andy Sheperd and Geoff Williams. But as he began looking for new dimensions of percussive sounds, he turned back to Egyptian Drums, and traditional dance rhythms of the Middle East. Hossam's No# 1 hit "EDONY" that topped the dance charts worldwide back in 2001. His percussion, north african string arrangements and exciting rhythms caught the attention of Peter Gabriel and Hossam was invited to perform on PASSION and later US. Hossam has gone on to work with many top musicians including Joan Armatrading and Mary Wilson. Hossam creates string arrangements and percussion, and produces many songs for world artists such as: Yesim Salkim, Celick Erici, Cheb Khaled, Tarkan, Rachid Taha, Faudel, The Gypsy Kings. In 1994 Robert Plant and Jimmy Page (ex-Led Zeppelin) invited Hossam work on their reunion album 'No Quarter - Unledded' with other Arabian musicians, he was rewarded a GOLD then a PLATINUM discs for his work on the album. This led to his joining Page & Plant on their historic reunion 1995/96 world tour. Hossam was awarded a Platinum disc for being a top selling artist of ARC Music Record Company, during their 25th Anniversary in 2001. Hossam also creates many new sounds of the old traditional grooves and Arabian & North African Samples & Loops using his state-of-the-arts digital studio.
Contributed by:
Mohamed El-Nadi
Releases:
Albums

A Tribute to Samy el-Bably
Ahlamy
Best Of Bellydance From Morrocco - Egypt etc
Best of Abdul Halim Hafiz
Best of Baladi and Saaidi
Best of Hossam RamzySource of Fire
Best of Om Kolthoum
Egyptian Rai
Egyptian Sufi
El Amar
Faddah
Gamaal Rawhany - Soulful Beautyÿ
Latin American Hits for Belly Dance
Middle East Today
Music from Sudan Presenting Azza
Qanun el-Tarab
Sabla Tolo
Sabla Tolo II
Sahara Groove
Secrets of the Eye
The Best of Farid Al Atrash
Turquoise Presenting Dalinda
Zeina - Best of Mohammed Abdul Wahab
el-Sultaan Classical Egyptian Dance
Rhythms of the Nile
1997
Classical Egyptian Dance
2003
Flamenco Arabe
2003
Ro-He
Classical Egyptian Dance
Baladi Plus
Egyptian Dance Music
Appearances:
Compilation Albums

Little Creatures, Little Creatures
Mari Wilson, Rhythm Romance
Adzido, Under African Skies
1983
Hossein Farjami, Plays Santoor
1988
Peter Gabriel, Passion
1989
Anne Dudley, Minarets and Memories
1990
Barbara Thompson, Breathless
1990
Claudio Baglioni, Oltre
1990
Joan Armatrading, Hearts & Flowers
1990
Marc Almond, Enchanted
1990
Peter Gabriel, Shaking the Tree
1990
Rembetika: Talking to Charos (Urban Greek Music)
1990
Anne Dudley, Songs from the Victorious City
1991
Anne Dudley, Ziggarats of Cinnamon
1991
Dogan-Corringham/Hadjineophyto, Popular Turkish Folk Songs
1991
Donald Lunny, Bringing it all back home
1991
Heidi Berry, Love
1991
London All Stars Steel Orchestra, Latin American Hits
1991
Pride of Murray Pipe Band, Best of Scottish Pipes & Drums
1991
Tim Wheater, Mistral: the Wind of Change
1991
EKO, Logikal
1992
Huseyin & Günay Turkmenler, Songs & Dances from Turkey
1992
Peter Gabriel, Us
1992
Praise, Praise
1992
El último de la fila, Astronomia Razonable
1993
Hassan Hakmoun, Trance
1993
James Asher, Globalarium
1993
Peter Gabriel, Passion Sources
1993
Peter Gabriel, Plus from US
1993
Plainsong, Dark Side of the Room
1993
20 Best of Tropical Dance Music
1994
Adzido, Akwaaba Songs & Dances From Black Africa
1994
Adzido, Siye Goli
1994
Chalf Hassan, Songs & Dances from Morocco
1994
Chen Dacan, Chinese Folk Music
1994
Cheng Yu, Classical Chinese Pipa
1994
Clive Bell, Shakuhachi: The Japanese Flute
1994
Dan Air Scottish Pipe Band, Best of Scottish Pipes & Drums
1994
Dorado: A Compilation 3
1994
Electric Light Orchestra, Moment of Truth
1994
Gipsy Kings, Compas
1994
Heather Nova, Oyster
1994
Killing Joke, Pandemonium
1994
Li He, Chinese Flute: Chinese Classical Folk Music
1994
Page & Plant, No Quarter: Jimmy Page & Robert Plant Unledded
1994
Rolling Stones, Symphonic Music of the Rolling Stones
1994
Samba Bossa, Samba Bossa
1994
Sarvar Sabri, Master Drummer of India
1994
Tim Wheater, Timeless
1994
Alexandros Karozas, Opus Xenen
1995
Ayako Lister, Japanese Koto
1995
Baluji Shrivastav, Classical Indian Ragas
1995
Baluji Shrivastav, Classical Indian Sitar & Surbahar Ragas
1995
Beeston Pipe Band, Nottingham
1995
Best of Bellydance from Egypt & Lebanon
1995
Best of Silver Wave, Vol. 3: The Stars
1995
Boy George, Cheapness & Beauty
1995
Loreena McKennitt, A winter Garden
1995
Peter Gabriel, Arcane
1995
Phil Thornton, Pharoah
1995
Planet Squeezebox
1995
Rafa Tachuela, Gipsy Flamenco Guitarras
1995
Richard Stagg, Shakuhachi: The Japanese Bamboo Flute
1995
Tim Wheater, Heart Land
1995
World Music Festival Budapest
1995
Adzido, Thand Abantwana
1996
Best of Bellydance
1996
Big Country, Eclectic
1996
Carols of Christmas, Vol. 2: A Windham Hill Sampler
1996
Chalf Hassan, Belly Dance from Morocco
1996
Marc Almond, Fantastic Star
1996
Phil Thornton, Eternal Egypt
1996
Pino Daniele, Come Un Gelato All Equatore
1996
Rachid Taha, Ole Ole
1996
Gary Thomas, Gaia's Dream
1997
Loreena McKennitt, Book of Secrets
1997
Pino Daniele, Dimmi Cosa Succede Sulla Terra
1997
Waaberi, New Dawn
1997
Ash, Nu-Clear Sounds
1998
Festival Tropical
1998
Luciano Pavarotti, For the Children of Liberia
1998
Maryam Mursal, Journey
1998
Masters of Percussion
1998
Messiah, Messiah Meets Progenitor
1998
Parfums d'Orient
1998
Phil Thornton, Immortal Egypt
1998
Pino Daniele, Pavarotti & Friends
1998
Pino Daniele, The Best of Pino Daniele: Yes I Know My Way
1998
Scotland the Brave
1998
World Music Ensemble, Live
1998
Yungchen Lhamo, Coming Home
1998
Africa North
1999
Alien Soap Opera, Second Wave
1999
Steel Drum Party
1999
Taha/Khaled/Faudel, 1, 2, 3 Soleils: En Concert
1999
Adzido, Traditional Songs & Dances from Africa: Ojah
2000
Celik Erisci, Unutamam
2000
Cheb Khaled, Kenza
2000
Classical Chinese Folk Music
2000
Claude Challe, Flying Carpet
2000
Gypsies of the Nile, Rahhal
2000
Jay-Z, Vol 3. Life and times of S. Carter
2000
Karolinka, Songs & Dances from Poland
2000
Peter Gabriel, OVO: Millennium Show
2000
Peter Gabriel, OVO: Millennium Show (Limited Edition)
2000
Rachid Taha, Barbes
2000
Rachid Taha, Made in Medina
2000
Rachid Taha, Rachid Taha
2000
Afro-Indian Project: Travels with the African
2001
Afrocelts, Further in Time
2001
Bob Sinclar & Hossam Ramzy, Africanism
2001
Celik Erisci, celik8
2001
Desert Roses and Arabian Rhythms, Vol. 1
2001
Ebony Steelband, Caribbean Steeldrums: Popular Beatles Songs
2001
Global Beatz
2001
Hossein Farjami, Art of the Santoor from Iran: The Road to Esfahan
2001
Larry Coryell, Crossing Borders
2001
Luis Delgado, El Hechizo de Babilonia
2001
Ron, Porto Nel Vento & Boys in Time
2001
Son Kalo, Son Kalo
2001
Spirit Nation, Winter Moons
2001
Susheela Raman, Salt Rain
2001
Taha/Khaled/Faudel, 1, 2, 3 Soleils (Mondo Melodia 2001)
2001
Tarkan, Karma
2001
Best of Lounge Music
2002
Bond, Bond Special
2002
Djamel Hammadi, Medina
2002
Mondo Platinum
2002
Peter Gabriel, Long Walk Home: Music from the Rabbit-Proof Fence
2002
Peter Gabriel, Up
2002
Phil Thornton, Dreamscapes
2002
Sahara Groove
2002

Soundtrack Albums

Stargate, Hossam Ramzy - David Arnold composer
1994
Stealing Beauty
1996
The Hunchback of Notre Dame, Ed Shirmur - composer
1996
The Saint, Graham Ravel - composer
1997
Wings of a Dove, Ed Shirmur - composer
1997
The Last Temptation of Christ, Peter Gabriel - composer
1998
The Four Feathers, James Horner - composer
2002
Links:
Related Categories:
External Resources:
Other Sites
Direct links to the same topic on other websites.
This category needs an editor