Laura Scarborough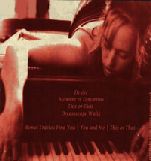 Years
1974 -
From
Styles
Search
Classically trained vocalist-pianist, known for her sultry style, driven by piano, analog keyboards, haunting guitar, passion, groove, delay, with traces of Rachmaninoff, Billie Holiday, and Pink Floyd.
Subcategories:
Biography: Laura Scarborough
Classically trained, Laura began her affair with the piano from the early age of 6.
A multiple winner of competitions during her early school years, Laura was recognised for her expressive style, and participated in a workshop in Vienna, studying with Krassimira Jordan at the Bosendorfer Academy. Laura received a scholarship from the University of Texas, and completed her BA in Music. It wasn't until she was 22, that she began developing her talents in improvisation, composing, and singing.
A unique blend of classical piano structure, and textural groove music. Laura's free-flowing, sulty vocal style, was influenced by the great female jazz singers.
When Laura is not entertaining audiences, she works with children, and has established her own studio - developing unique methods for teaching piano.
Contributed by:
poppyseed
Releases:
Appearances:
Related Categories:
External Resources:
Other Sites
Direct links to the same topic on other websites.
This category needs an editor