Sherry, Fionnuala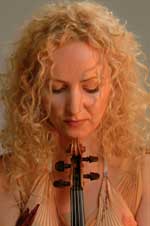 From
Styles
Search
Biography:
Fionnuala grew up and went to school in Naes in Killdeer, Ireland surrounded by a musical family that ignited her early passion for music at an early age. Moved to Dublin to study music and was an honour graduate of Ireland's Trinity College and College of Music, she was later employed by the RTE Concert Orchestra. In addition to the classical symphonic and operatic repertoire, Fionnuala possessed a much wider musical interest.
This is evident in the eclectic body of artists (including The Chieftains, Sinead O'Connor, Van Morrisson, Chris de Burgh, Bono and Wet Wet Wet) and projects she has been involved with (Hollywood film scores, such as "The River Runs Wild", "The Mask"). That same wide interest in music led her to conceive, write and present her own music series for children on Irish national TV. All this before her fated meeting with Rolf Lovland and the founding of Secret Garden in 1994.
In Secret Garden music, her unique violin virtuosity provide the heartstrings, voice and wings for Lovland's compositions. Onstage, she enchants audiences through her musical intensity and striking beauty. Fionnuala Sherry is a rare and immensely talented musical soul.
Contributed by:
Secretgarden.no
This category needs an editor