Since August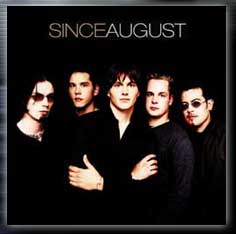 Founded As
Even
Years
1997 -
From
Styles
Members
Derek McLaughlin
drums
Doug Larlee
vocals
Ethan Young-Lai
guitar
Joel Green
bass
Search
Subcategories:
Biography: Since August
Since the band's inception in 1997, Since August has developed a reputation as one of the hardest working bands in the country. Their list of accomplishments to date equals an impressive resume including highlights such as:
- Named one of Access Magazine's Top 10 Canadian Artists to Watch.
- Winners of Beer.com's International Battle of the Bands.
- Playing with Kid Rock at the Docks in Toronto.
- Showcasing at the Mercury Lounge in NYC and Johnny Depp's Viper Room in Los Angeles, California.
- Their first video, If You, added to rotation at MuchMusic, MuchLoud, EdgeTV, and MTV Canada .
- Their second single, Too Gone, reached #60 on the Canadian rock charts.
- Nominated for a 2002 ECMA in Best Rock Artist category.
- Their 28-date cross Canada tour last fall.
- Signing a three-album record deal with Loggerhead Records.
- Sharing the stage with other Canadian artists such as Big Sugar, Staggered Crossing, By Divine Right, Shocore, Clarknova, Grindig, and Crush.
The band is currently demoing material for their upcoming second album and playing regional dates throughout Eastern Canada.
Contributed by:
Since August
Contributor e-mail:
mail@sinceaugust.com
Contributor organisation:
sinceaugust.com
Releases:
External Resources:
Other Sites
Direct links to the same topic on other websites.
This category needs an editor