Search
Subcategories:
The Fashion Focus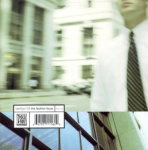 Personnel:
Jeff Cloud: Bass Guitar
Gene Eugene: Keyboards / Bass Guitar
Wayne Everett: Drums / Percussion
Jason Martin: Lead Guitar / Lead Vocals / Keyboards / Bass Guitar / Percussion
This album was released on vinyl through Burnt Toast Vinyl and Velvet Blue Music in May of 1999. It featured a bonus 45 that features two songs that were not included on the full album. The song "Never Had A Name" is printed as "Never Had One" on the 45's label.
| | |
| --- | --- |
| Released: | October 6th, 1998 |
| Formats: | CD, LP |
| Genre: | Alternative Rock |
| Studio/Live?: | Studio |
| Label: | Tooth & Nail Records |
| Producers: | Gene Eugene |
| Guest Musicians: | Mike Knott: Backing Vocals trk 9 |
| Catalogue Number: | TND1116 (CD), BTV013 / VBM035 (LP) |
| UPC/EAN: | 647077111620 |
| | | |
| --- | --- | --- |
| 1 | I Drive A Lot | 3:15 |
| 2 | We're The Ordinary | 4:16 |
| 3 | Sundown | 3:53 |
| 4 | Fell In Love At 22 | 2:32 |
| 5 | A Holiday Song (Happy Holidays) | 2:08 |
| 6 | All The Time | 3:16 |
| 7 | The Birthrite | 3:19 |
| 8 | Card Games And Old Friends | 2:08 |
| 9 | Shut Your Mouth | 3:11 |
| 10 | The Fashion Focus | 3:16 |
| 11 | Too Much Fun | 7:42 |
| 12 | Days Of Lamech | 4:30 |
Bonus 45
Side 1
| | | |
| --- | --- | --- |
| 13 | Elijah The Prophet | 4:22 |
Side 2
Cross-references:
This category needs an editor