Aaron Genest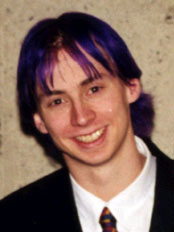 Years
1974 -
From
Styles
Search
Biography:
Kinetic, kaleidoscopic, and complex, Aaron Genest was born May 21, 1974 in Kitchener, Ontario. He arrived with his family in Saskatchewan in 1980 and claims to be an orphan, abandoned when his mom, dad and sister left for Nova Scotia a few years later. Watching Aaron's on-stage, high-voltage energy, it's easy to believe he never slept until he was four but you might be surprised to find that off stage he's rather quiet. Under his vibrant hair, which usually glows lime, or orange, or grape, or cherry, there's a lot going on. He's a book-a-day reader, a professor's son, who can talk to anybody about anything and sees the funny side of every situation.
Aaron began singing lessons when he was four and added recorder lessons, then piano, trumpet, and cello, as well as theory and composition. Against this classical background, he studied jazz, eventually at Berklee College of Music in Boston. He has a knack for improvisation and paid his way through 2 years of university by playing improv piano in dance studios. He has also provided piano accompaniment for his sister, Anna, who is a violinist. Gypsy, one of his dogs, used to like to stick her head into the bell and howl her accompaniment when Aaron practiced trumpet, which may be why he doesn't play that instrument anymore.
Aaron first started singing a cappella with Tony Hughes in high school at Aden Bowman Collegiate in Saskatoon, and later met BJ Harris at university, where, along with three other friends, founded Streetnix.
This category needs an editor