Tony Hughes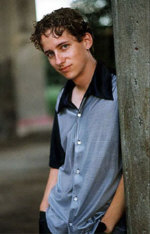 Years
1973 -
From
Styles
Search
Biography:
Antony Scott Hughes was born in Saskatoon, Saskatchewan on November 29, 1973. He has been involved in performing even before he was born. With both of his parents involved in the Saskatoon performing arts scene for the past 30 years, it was inevitable that Tony would catch the performing bug.
At the age of seven, Tony was first spotted on stage during a winter production of Hans Christian Anderson. As part of the children's chorus, he played boy #14 (a very demanding role which required him to memorize the line "Yes sir!"). He then got involved in various acting classes and productions through out his schooling. It was in Grade 11, during a band tour to Toronto, that he found an interest in singing a cappella.
As the story goes, during his Grade 11 year, the Aden Bowman Collegiate Choir had an unusually large enrollment of male singers (Tony not being one of them, after all, singing is for sissies). Instead of rehearsing choir songs, "The Men of the Choir" jammed out some popular Nylon's hits. When it came time to travel to Toronto, one of the regular singers did not go on the trip, so Tony readily filled in his position and thus history was made. From this group evolved another acappella group called "The Beau Men", where Tony and Aaron Genest sang for the first time together. Naturally, they hated each other!
When both Aaron and Tony graduated, they, with other members of "The Beau Men" (Rich Sinclair & Xylon Cozens), formed Streetnix along side BJ Harris and Ward Arnold. To this day, Tony is still amazed with the progression the group has made over the years and continues to enjoy the successes of the band.
This category needs an editor