Search
Technically, this was The Beatles first EP to be released, though it's not considered an official issue.

While they were making trips to Germany in 1962, The Beatles recorded several songs as the backup band for Tony Sheridan. A year later, after The Beatles' EMI recordings had reached the top of the British charts, these recordings were released by Polydor to try and cash in on the phenomena. It didn't work and this EP didn't even chart.
Tony Sheridan With The Beatles [EP]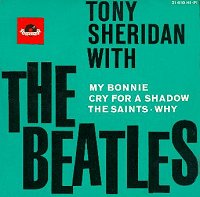 Tony Sheridan - vocals
John Lennon - guitar
Paul McCartney - bass
George Harrison - guitar
Pete Best - drums

Recordings of The Beatles backing up Tony Sheridan from 1962. EP is also listed with the title "My Bonnie".
| | |
| --- | --- |
| Released: | July 12th, 1963 |
| Formats: | 45 [EP] |
| Genre: | Rock, pop |
| Studio/Live?: | Studio |
| Label: | Polydor (U.K.) |
| Catalogue Number: | EPH 210610 |
Side A
Side B
| | |
| --- | --- |
| 1 | Why |
| 2 | Cry For A Shadow [instrumental by The Beatles] |
This category needs an editor