Andrus, Blackwood, and Co.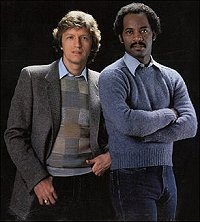 Also Known As
Andrus & Blackwood
ABC
AB&C
Years
1977 - 1986
From
Styles
Members
Search
Sherman Andrus came from singing with COGIC and Andrae Crouch & The Diciples. Terry Blackwood was from the famous Blackwood legacy of Southern Gospel music. They both would join the Imperials, who helped turn Gospel music into Contempory Christian Music. And they both would go on to sing with Elvis Presley in his backup group.

After years with the Imperials, and with Elvis, they struck out on their own, becoming the first high profile, highly successful integrated act in CCM, Andrus, Blackwood & Co.

Today, Sherman Andrus and Terry Blackwood both have separate singing ministries, while they still travel the world as part of the Elvis Memorial Concert series.
Subcategories:
Releases:
Related Categories:
This category needs an editor