Bird, Andrew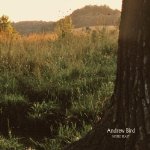 Years
1973 -
From
Styles
Search
Andrew Bird
:
(born July 11, 1973) is an American musician, songwriter, and multi-instrumentalist. He was born in Chicago and currently spends his time between Chicago and a farm near the town of Elizabeth in northwest Illinois.
He has mastered several instruments and is musically proficient on others.
They include the violin, guitar, mandolin, whistling, and glockenspiel.
Subcategories:
Releases:
External Resources:
Other Sites
Direct links to the same topic on other websites.