Tommy Coomes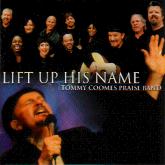 Years
1946 -
From
Styles
Search
Tommy Coomes was a member of Love Song, the first Christian Rock band to gain international recognition for the genre.

Today, he leads The Praise Band, and regularly travels with Promise Keepers and the Billy and Franklin Graham organizations.
Subcategories:
Releases:
Appearances:
Related Categories:
External Resources:
Newsgroups
Other Sites
Direct links to the same topic on other websites.
This category needs an editor