Cream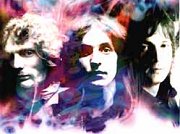 From
Styles
Members
Search
Cream was formed out of the love of blues music. Guitarist Eric Clapton, after a stint with the Yardbirds, joined John Mayall's Bluesbreakers but soon found that the band was too stifling. Calling mates he had played with before, drummer Ginger Baker and bassist Jack Bruce, Clapton assembled a band like no other before, one based heavily in the blues, but free to explore the heavy rock that was being birthed in mid-sixties England. What followed would become rock music history.
Subcategories:
Releases:
Albums

Fresh Cream
1966
Disraeli Gears
1967
Wheels Of Fire
1968
Best Of Cream
1969
Goodbye
1969
Live Cream
1970
Heavy Cream
1972
Live Cream Volume II
1972
Off The Top
1973
Cream
1975
Portrait Of Cream
1975
The Best Of, Vol. 2
1975
Cream Volume Two
1978
Gigantes Del Pop, Vol. 23
1981
Box Set
1983
Strange Brew - The Very Best Of Cream
1983
The Story Of Cream Vol. 1
1983
The Story Of Cream Vol. 2
1983
Best Of Cream [Dutch]
1986
Live 1968
1989
In Gear
1991
Deserted Cities: The Cream Collection
1992
The Alternative Album
1992
The Very Best Of Cream
1995
Those Were The Days
1997
The Best Of Cream: The Millenium Collection
2000
Related Categories:
External Resources:
Other Sites
Direct links to the same topic on other websites.