Deus Ex Machina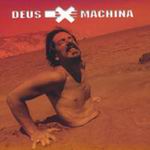 Years
1989 -
From
Styles
Members
Carlos Perez
guitar
Dimitris Manthos
bass
Dimitris Spyropoulos
guitar
Stavros Hatzopoulos
vocals
Yiannis Venardis
drums
Search
Biography: Dues Ex Machina
Deus Ex Machina were formed in 1989 by Dimitris Spyropoulos and Dimitris Manthos in Athens, Greece. Spyropoulos and current drummer Yiannis Venardis were veterans of the local punk scene of the early 80s. The band eventually gained overwhelming acceptance of the alternative crowds.In the years to come, this resulted in over 500 concerts with increasing success, establishing DXM as a predominantly kicking live band in spite of their limited discography.
In the course of their history DXM have suffered several setbacks including a number of serious car accidents and repeated personnel changes. So far, not only did they persevere, but on top of every adversity, they seem to come out on a limb with added stamina each time. Nowadays, DXM are considered as one of the major established acts of the greek alternative scene.
Some of the highlights of their history include their appearance in landmark anti-Bosnian war concerts in Skopje, FYROM in 1994. In 1995, at the height of the Bosnian war, they toured Serbia. Year 1996 finds them appearing in major festivals in the cause of peace in the Balkans. Year 2000 was marked, among other things, by their memorable appearances at the Biennale 2000 in Torino, Italy. Furthermore, over the years DXM have performed in a large number of concerts promoting social consciousness, which is also reflected on the lyrics and the overall attitude of the band.
More notably, in the last two years, they have appeared several benefit concerts supporting the cause of the Zapatista native insurgents of the Chiapas region in Mexico. A respectable sum has been raised for the erection of a school for Zapatista children to be completed in the year 2004. The band has already accepted an invitation to appear at the completion ceremony.
The next major step is coming with the release of their latest Signs LP/CD in February 2003. This sums up effectively the final result of the last three years of hard work and experimentation. The album was produced by accomplished producer Hardy S. Party (Giant Sand, The Style Lab) marking the opening of a new phase in the evolution of the band.
Releases:
Albums

Signs
2003

Singles

Motorpsycho
1991
Execute/Iraq 'n' roll
1992
Worlds Apart
1993
No silence on my face
1994
Different?
1997
Appearances:
Compilation Albums

Tribute to the Germs
1994
Toxic Babies in r'r land
1995
Pop + Rock Magazine Compilation
1998
External Resources:
Other Sites
Direct links to the same topic on other websites.
This category needs an editor