Keith Green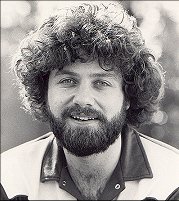 Years
1953 - 1982
From
Styles
Search
A reformer trying to purge the church of unbiblical habits, Keith's music was lyrically a mix of Jesus Movement protest and 19th century evangelistic writings. Tragically, he died in a plane crash in 1982.

Bill Carpenter - All Music Guide
Subcategories:
Releases:
Albums

I Only Want To See You There
Songs For The Shepherd
1982
Jesus Commands Us To Go!
1984
The Ministry Years Vol. 1
1987
The Ministry Years Vol. 2
1988
No Compromise
1990
For Him Who Has Ears To Hear
1991
So You Wanna Go Back To Egypt
1991
The Keith Green Collection
1991
The Prodigal Son
1991
Live
1995
Best Of Keith Green: Asleep In The Light
1996
Early Years
1996
Because Of You: Songs Of Testimony
1998
Here Am I, Send Me: Songs Of Evangelism
1998
Make My Life A Prayer To You: Songs Of Devotion
1998
Oh Lord, You're Beautiful: Songs Of Worship
1998
Your Love Broke Through
2001
Ultimate Collection
2002
Appearances:
External Resources:
Newsgroups
Other Sites
Direct links to the same topic on other websites.
This category needs an editor