Kid Rock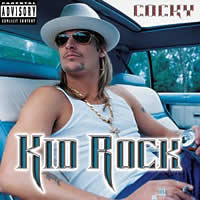 From
Styles
Members
Jason Krause
guitar
Jimmy Bones
keyboard, vocals
Kenny Olson
lead guitar
Kid Rock
Piano, guitar, vocals
Stefanie Eulinberg
drums, vocals
Uncle Cracker
turntable, vocals
Search
Detroit heavy metal rapper, Kid Rock was born Robert James Ritchie, in Romeo, Michigan.
Subcategories:
Releases:
Albums

Cocky
Devil Without a Cause
Early Mornin' Stoned Pimp
Fire It Up
Grits Sandwiches for Breakfast
Kid Rock
Live Trucker
Polyfuze Menthod-Revisited, The
Rock N Roll Jesus
The History of Rock
The Polyfuze Method
Fire It UpGrits Sandwiches for Breakfast
1990
Polyfuze Menthod, The
1993
Early Mornin' Stoned Pimp
1996
Devil Without a Cause
1998
History of Rock, The
2000

Singles

American Bad Ass [America and UK]
Bawitdaba [American single]
Cowboy [America and UK]
I Am the Bullgod [America and Australian]
Only God Knows Why
You Don't Know Me
Yo-Da-Lin in the Valley
1990
Back From the Dead [promo single]
1992
Cocky
Robert James Ritchie, AKA, Kid Rock, has won many music awards for his unique style of music which combines Hip-Hop, Southern Rock and Country. His past works include albums entitled: "The History of Rock", "Rebel Without a Cause", "The Polyfuze Method" and many more.
| | |
| --- | --- |
| Released: | 11-20-2001 |
| Formats: | CD, Cassette |
| Genre: | hip-hop, southern rock and country |
| Studio/Live?: | Studio |
| Label: | atlantic |
| Producers: | Kid Rock |
| Guest Musicians: | Kid Rock/Sheryl Crow/Snoop Dog |
Related Categories:
External Resources:
Other Sites
Direct links to the same topic on other websites.
This category needs an editor