Alison Krauss and Union Station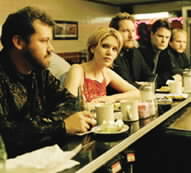 From
Styles
Members
Alison Krauss
vocals, fiddle, viola
Barry Bales
bass, vocals
Dan Tyminski
guitar, vocals
Jerry Douglas
dobro, lap steel guitar
Ron Block
banjo, guitar, vocals,
Search
Vocalist/violinist born 23rd July, 1971, in Champaign, Illinois.
Subcategories:
Releases:
Appearances:
Compilation Albums

O Brother, Where Art Thou?
2000
Related Categories:
External Resources:
Other Sites
Direct links to the same topic on other websites.
This category needs an editor